Two burgers are individually vacuum packed and quick frozen to guarantee freshness.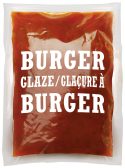 FREE gourmet burger glaze
12 burgers
Burger: Beef, Chicken, Water, Toasted wheat crumbs, Seasoning (dehydrated onion, dehydrated garlic, spices, natural flavour), Salt, Seasoning (natural flavour, salt, beef fat), Paprika, Flavour.
Burger glaze: Sugars (sugar, blackstrap molasses), Water, Tomato paste, Vinegar, Modified corn starch, Salt, Canola and/or soy oil, Dehydrated onion, Dehydrated garlic, Spices, Paprika, Flavour, Smoke flavour, Magnesium chloride, Potassium chloride, Xanthan gum.
May contain: Egg.
Cook from frozen. Remove burgers from all packaging. Cook to an internal temperature of 165°F (74°C).

Preheat pan to medium heat. Cook burgers for 15-18 minutes, turning frequently.

Cook on preheated electric grill set at medium for 8-10 minutes, turning once.
Appliances vary. These are guidelines only.

Sign up to receive our Newsletter